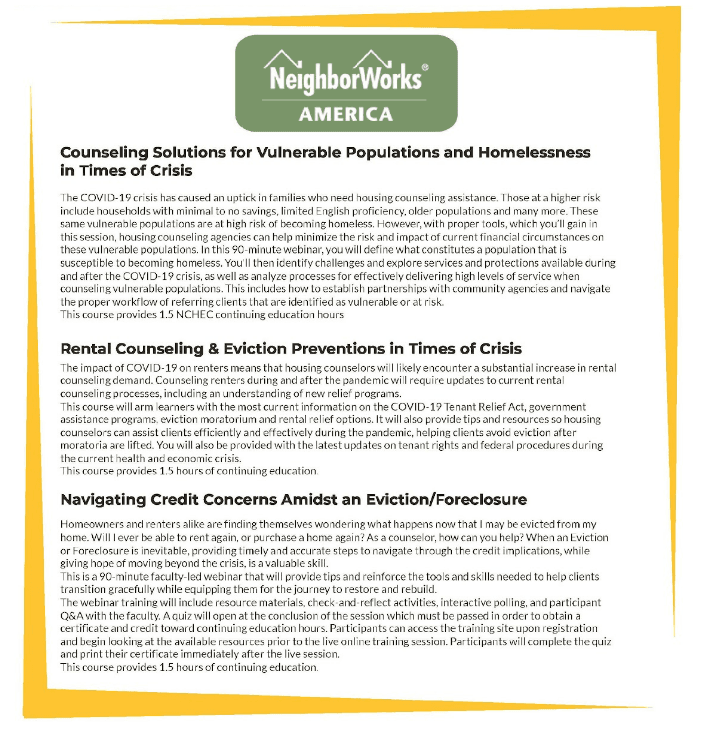 During the 26th Utah Annual Utah Housing Matters Conference , there will be three NeighborWorks America Training Institute workshops. The workshops will take place on Wednesday, August 31, 2022 from 7:30am to 3:30pm, at the Zermatt Resort in Midway. Sessions will address counseling options for those experiencing homelessness, rental counseling / eviction prevention in times of crisis, and navigating credit concerns during an eviction. For more detailed information about the workshops, please visit this link https://tinyurl.com/ytfwkjb2.
Utah Housing Coalition and Community Action Partnership of Utah is offering scholarships to Community Action Agencies (CAA) staff to attend the three workshops, including breakfast and lunch. This is especially useful training for housing and mediator staff, but all staff and board members from one of Utah's Community Action Agencies are welcome.
There are limited scholarships and they will be provided on a first-come, first-serve basis. Sign up with Utah Housing Coalition by filling out this form.
Please note - these scholarships are only for the Neighborworks America Sessions on Wednesday, August 31, 2022. For additional information about the 2022 Utah Housing Coalition Conference, including full-conference scholarships, please visit https://www.utahhousing.org/2022-annual-housing-conference.html.