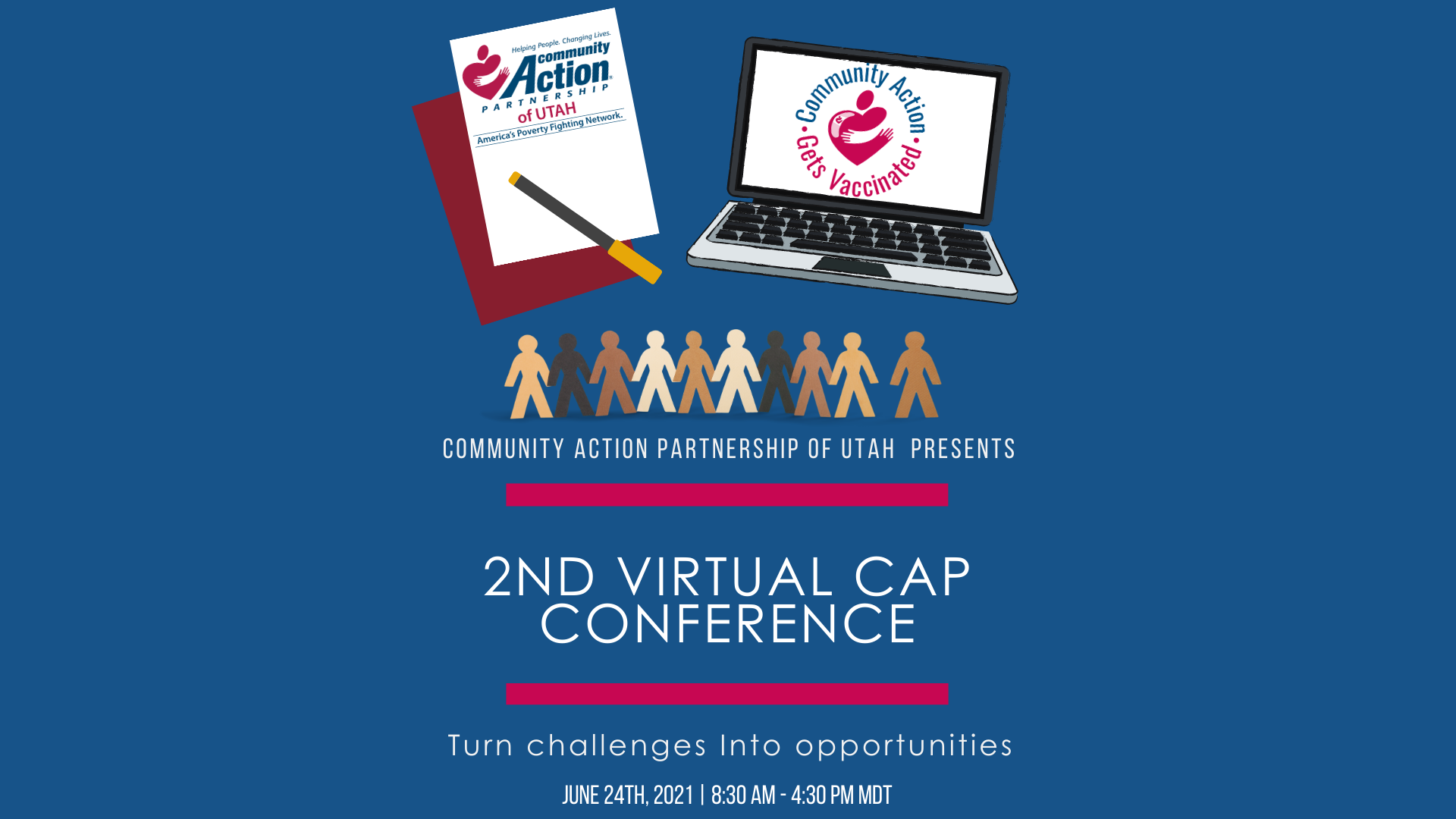 CAP Utah's 2nd Virtual Conference!
Join Community Action Partnership of Utah for its 2nd Virtual Conference on June 24, 2021. We will hear from a wide range of experts – including individuals from the Utah Department of Workforce Services – Housing and Community Development Division, The Office of Community Services – US Department of Health and Human Services, National Community Action Partnership, the National Association for State Community Services Programs, WIPFLI, the Nonprofit Risk Management Center, the National Community Action Foundation, and other respected organizations.
This year's theme is "Turning Challenges into Opportunities." COVID-19 has brought new challenges, made agencies rethink their strategies, and revealed that not all groups of people have recovered physically and economically at the same rate. For all the challenges, there are new resources, innovations, and partnerships emerging to help agencies refocus their work, create efficiencies, and improve families and communities. Much of this work will center around ensuring equitable access to opportunity.
The keynote speaker will be Dr. Gail Christopher, Executive Director, National Collaborative for Health Equity.
This conference will include sessions such as:
 Building partnerships around equity
Managing Data Equity Risks and Rewards
Analyzing data for better performance
Best practices for rapidly hiring short-term staff
Updates to the Uniform Guidance
Weatherization Reauthorization – Changes to WAP and Enhancement and Innovation funding opportunities
Whole Family Case Management – focusing on the need of the family and not just on a service
 Advocacy – connecting with your federal delegation
And More!
Register today to be part of this amazing training opportunity that you can enjoy from the safety and comfort of your own home!
Early registration before May 31, 2021 is $20.00. After this time registration increases to $30.00.
Special pricing for staff working at Community Action Agencies in Utah, with the Region 8 RPIC (Montana, Wyoming, North Dakota, South Dakota, and Colorado), and partners. Please reach out for to director@caputah.org for promo codes.
Do you know an individual or organization who demonstrated dedication and leadership in preventing and eradicating poverty? Nominate a partner, volunteer, or staff member for an Excellent in Community Action award!
Interested in sponsoring the conference? Click here for details.
Special Thanks to our Sponsors!