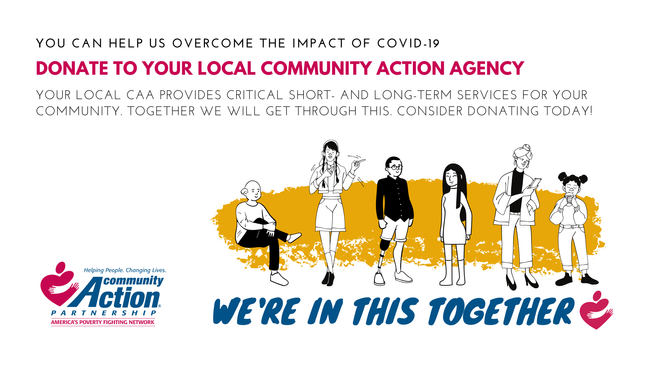 Community Action Agencies throughout Utah remain committed to helping families in Utah during and after the COVID-19 pandemic. These agencies provide important food, housing, transportation, and other services that are considered essential.
Here are a couple ways you can help Community Action Agencies in Utah:
Donate Time / Funds Directly to Community Action Agencies
Many agencies may have limited opportunities to accomidate walk-in donations. Electronic donations are easiest. If donations need to be dropped off, please reach out and arrange logistics with agencies directly.
Five County Association of Governments – HEAT and Community Action (Beaver, Garfield, Iron, Kane, and Washington Counties):
https://fivecountycap.org/donate/
Utah Community Action (Salt Lake and Toole Counties – with Weatherization and Early Head Start services in Weber, Davis, and Washington Counties):
https://www.utahca.org/donate/
Six County Association of Governments – Housing and Community Action (Piute, Sevier, Sanpete, Wayne, Juab, and Millard Counties):
Visit sixcounty.com
Community Action Services and Food Bank (Utah, Wasatch, and Summit Counties):
https://crm.bloomerang.co/HostedDonation?ApiKey=pub_6d79cd4a-b386-11e3-a756-02a718d18e56&WidgetId=3986432
Southeastern Utah Association of Local Governments (Carbon, Emery, Grand, and San Juan Counties):
http://seualg.utah.gov/index.php/volunteerdonate/
Open Doors (Davis and Morgan Counties):
https://opendoorsutah.org/donate/
Uintah Basin Association of Governments (Duchesne, Uintah, and Daggett Counties):
https://www.ubaog.org/donate
Ogden-Weber Community Action Partnerships (Weber County):
https://owcap.org/support-us/
Bear River Association of Governments (Cache, Box Elder, and Rich Counties):
Contact at (435) 752-7242