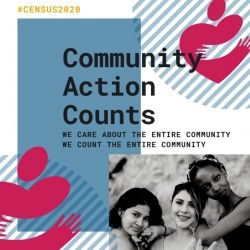 Q. What is the Census?
A. The U.S. Constitution requires a complete count, every 10 years, of every single person living in the country. ALL residents are counted, regardless of citizenship status. 
Q. Why does the Census matter?
A. Information gathered in the Census count helps shape the future of our community. It's used to determine our representation in Congress, set how much federal funding Utah gets each year, redraw voting districts, and inform countless decisions by governments and businesses. An inaccurate 2020 Census could deprive Utahns of needed resources. Utahns benefit from $5.7 billion a year in federal funds allocated mostly by using Census information. Programs such as Medicaid, Children's Health Insurance Program (CHIP), and Head Start are among the many program that depend on this money. 
Q. Is my information confidential?
A. All responses to Census Bureau surveys are confidential and protected under Title 13 of the U.S. Code. Under this law, the Census Bureau is required to keep respondent information confidential and it is a felony for any Census Bureau employee to disclose and confidential information. Personal information will never be shared with immigration enforcement agencies like ICE or law enforcement agencies like the FBI or police.
Q. How do I respond?
A. You can respond on-line, by phone or by mail. Beginning in March, households across the country began receiving information on how to respond online. The online form takes about 10 minutes to complete and asks simple questions. When responding online to the 2020 Census, you will be prompted to enter your unique Census ID. This ID number acts like a PIN and can be found on the Census Bureau invitation to respond. Areas less likely to respond online will receive a paper questionnaire with their invitation, but can still choose to respond online.
Q. Can I still respond by mail?
A. Yes. All homes will receive a paper questionnaire if they do not first respond online or by phone.
Q. Do I have to answer in English?
A. The online census is available in 12 languages other than English. Telephone responses will be accepted in the same 12 languages. Paper forms will be printed in English and Spanish. Language guides and glossaries will be available in 59 non-English languages, plus Braille. 
Q. Does everyone in the house need to respond?
A. One person in the house can fill it out, but be sure to include everyone in your household. The form will ask how many people are living in the house, and then ask the basic questions for everyone living there (age, sex, race, etc.)
Q. How does COVID-19 impact the Census?
A. 2020 Census field operations will be suspended until April 1, 2020. In late May, census takers around the nation will begin visiting households that have not yet responded to the 2020 Census to help complete the count. The deadline to responding to the Census has been extended to August 14th. 
Q. Will someone come to my house?
A. In May, enumerators will begin to visit households that did not respond. Enumerators can visit an unresponsive household up to 6 times. 
Q. How do you count someone who is an active duty service member?
A. If you are stationed outside the US on Census Day, the Census Bureau will use existing data provided by the Deparment of Defense to count you as part of the US federally affiliated overseas population. If you are living on a military base, you can respond to the Census online, by phone, or by mail. 
Q. Do you count newborn babies?
A. Babies born on April 1, 2020 should be counted at the home they will live and sleep in most of the time, even if they are still in the hospital on Census Day. Babies born after April 1, 2020 should not be counted. 
Q. What if I have multiple residences? 
A. Count yourself at the address where you live and sleep most of the time. If you split your time evenly, count yourself where you are staying on April 1, 2020. 
Q. What if I don't have a permanent address?
A. You should count yourself where you are living on April 1, 2020. For example, if you're staying with a family memeber, you would be counted as part of the census form for their address. Beginning at the end of April, Census takers will count people staying at transitory locations.