Utah's 18th Annual Homeless Summit (Virtual)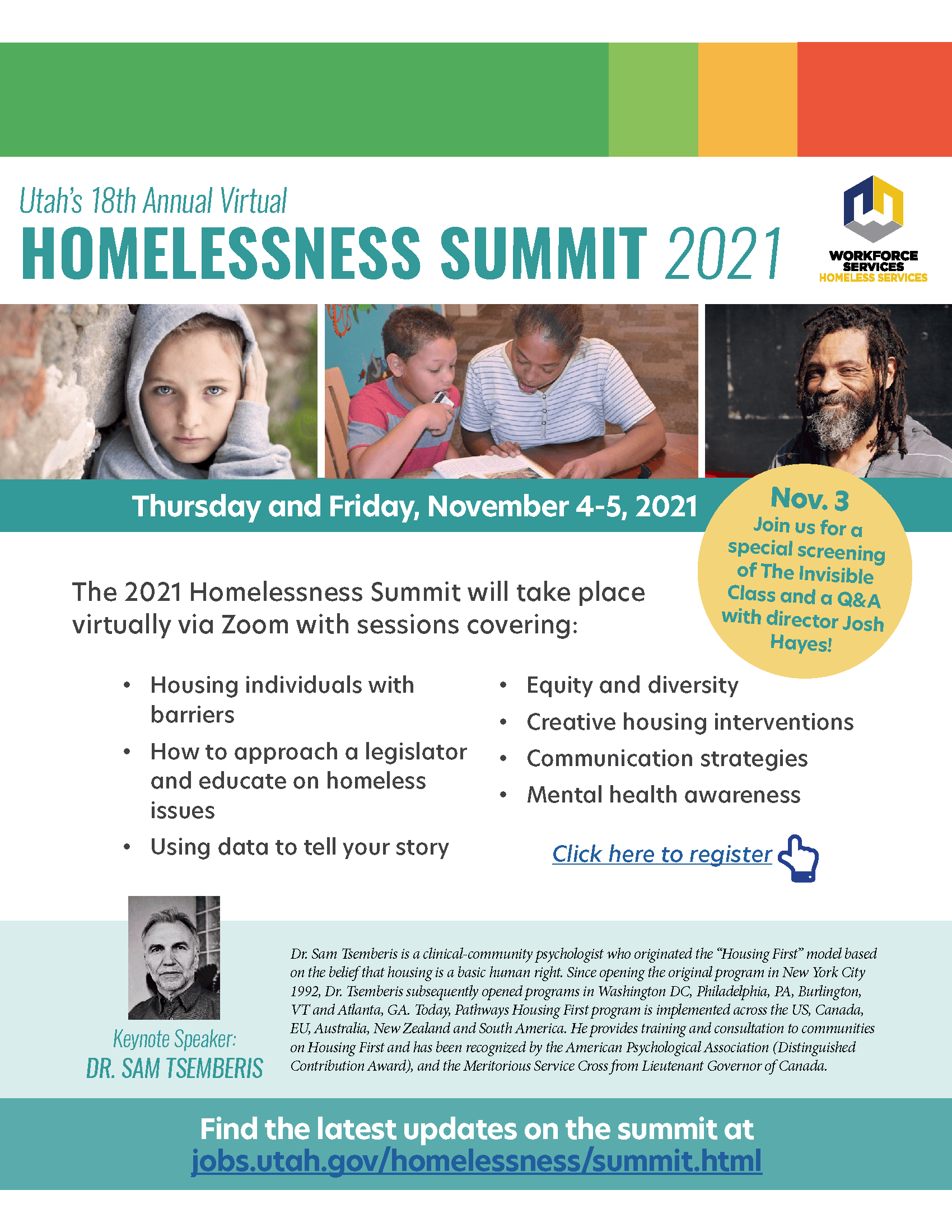 This year's event will take place virtually via Zoom on Thursday, November 4th and Friday, November 5th, 2021. Our speakers will inspire and encourage your efforts in: using the housing first model, strengthening your understanding of supportive services, and enhancing your knowledge of workable solutions in coordinating resources. Through their presentations and sessions, you will receive effective tools for informing your local stakeholders, strengthening your partnerships, maximizing the success of your programs, and aligning yourself with ever-changing funding requirements. We look forward to seeing you there- virtually of course!
This year, our Keynote Speaker is Dr. Sam Tsemberis. He is a clinical-community psychologist who originated the "Housing First" model based on the belief that housing is the foundation needed to address an individual's barriers related to homelessness. Since opening the original program in New York City 1992, Dr. Tsemberis subsequently opened programs in Washington DC, Philadelphia, PA, Burlington, VT and Atlanta, GA. Evidence from randomized control trials report housing stability rates ranging from 80% to 90% for individuals who are literally homelessness and diagnosed with severe mental illness. The Housing First program has been adapted to serve populations exiting hospitals, jails, and domestic violence. Today, Pathways Housing First program is implemented across the US, Canada, EU, Australia, and New Zealand and recently opened in several South American countries. Currently Dr. Tsemberis serves as CEO of the Pathways Housing First Institute and Clinical Associate Professor, UCLA Department of Psychiatry and Biobehavioral Sciences. He provides training and consultation to communities on Housing First. He has published widely on these topics, including two books, and his work has been recognized by the American Psychological Association (Distinguished Contribution Award), and the Meritorious Service Cross from Lieutenant Governor of Canada. He has worked with the people of Utah to introduce Housing First to the State and is pleased to return to Utah and participate in the Summit.
A variety of topics will be covered during the breakout sessions at the Summit including- housing individuals with barriers, learning how to approach a legislator and educate on homeless issues, using data to tell your story, adding or enhancing equity and diversity in your organization, use of creative housing interventions, communication strategies, mental health awareness, and a discussion about the changes to legislation effecting homelessness in Utah. There will truly be something for everyone.
This year, there will be a special free screening of the film The Invisible Class the night before the summit, Wednesday November 3rd at 6:00 pm followed by a Q&A with one of the filmmakers directly after the viewing. A link to register will be sent to all attendees and we encourage your virtual participation.
The week of the summit, you will find the virtual agenda, links to join all sessions, and program information on the state website at:
https://jobs.utah.gov/homelessness/summit.html
This event will be updated with an active link as it becomes available and you will receive an email to the address you are registered with containing any pertinent information.
In the meantime, if you have any questions, please feel free to reach out to Stephanie Leeds- Office of Homeless Services Admin at sleeds@utah.gov